When I first saw this one at the store my heart skipped a beat. I realized that there were no orange blushes on my stash (at the time, I now have three) and I needed one. I NEEDED IT. Suddenly all my pink blushes looked awful on me and it seemed like there was no point on applying blush if it's color wasn't orange. Mind you, I dislike the color orange on most thinks: nail polish, eyeshadow, lipsticks... But this pretty orange blush seemed perfect. I'm talking about Boticário's Compact Blush in Orange Gold that came out with the Make B Lumière line.
Quando vi este menino pela primeira vez numa loja o meu coração parou por um momento. Apercebi-me de que não tinha nenhum blush laranja na minha colecção (na altura, agora tenho três) e precisava de um. PRECISAVA. De repente todos os meus blushes rosa pareciam ficar-me horrivelmente e parecia que nem valia a pena usar blush se este não fosse cor de laranja. Tenham em conta que desgosto da cor laranja na maior parte das coisas: verniz, sombra, batons... Mas este blush laranja parecia perfeito. Falo do Blush Compacto do Boticário na cor Orange Gold que saiu com a linha Make B Lumière.
I've read a lot of reviews calling this coral or pinkish coral but for me its plain orange. Orange in the pan, orange on the swatches and orange when blended on my cheeks. This is a bright orange with light gold shimmer. Don't worry, this isn't so shimmery that will stop you from wearing it during the day.
Li várias resenhas que diziam que ele era coral ou um coral rosado mas para mim ele é apenas laranja. Laranja na embalagem, laranja nos swatches e laranja quando esfumado nas minhas bochechas. É um laranja forte com um leve brilho dourado. Não se preocupem que ele não é tão brilhante que vos vá impedir de o usar durante o dia.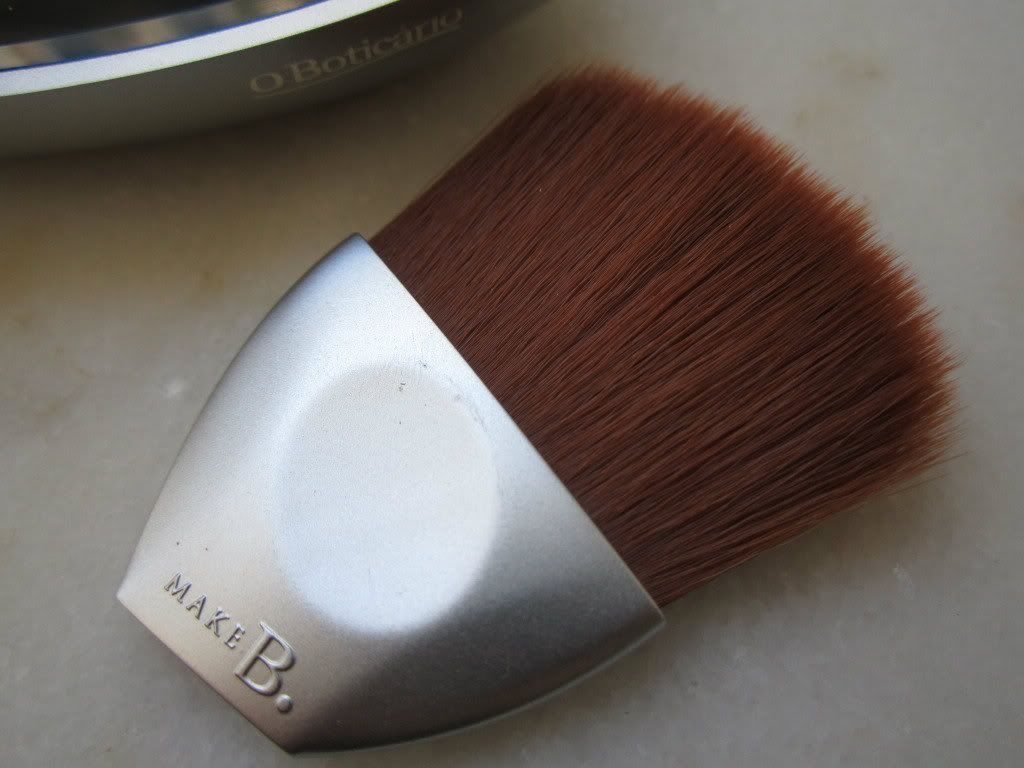 It comes on a black plastic packaging that looks elegant. It's made out of plastic and it feels like it, so don't crazy with this one on your make up bag every single day. It has a small mirror that always comes in handy and on a hidden compartment you'll find this brush. It's has very floppy bristles and is as useless as all blush brushes that usually come with this sort of products. Well, it actually isn't as bad as I thought. I applied the following swatches with it and they didn't turn out that bad. It certainly isn't as good as most blush brushes
you may have at home but it may come in handy and is more than okay from touch ups during the day.
Vem numa embalagem preta de plástico que parece elegante. É feita de plástico e nota-se, por isso não dêem uma de loucas com ele na mala todos os dias. Tem um espelho pequeno que dá sempre jeito e num compartimento escondido encontrarão este pincel. Tem cerdas frouxas e não serve de muito, como todas os pincéis de blush que vêm com este tipo de produtos. Bem, na realidade não é tão mau como pensava. Fiz os próximos swatches com ele e nem ficaram assim tão maus. Claro que não é tão bom como a maior parte dos pincéis de blush que devem ter por casa mas pode dar sempre dar jeito e é mais que suficiente para os retoques ao longo do dia.
This baby is very, very,
VERY
pigmented. The first few times I used it I was careful and still ended up looking like a clown. Its best if you apply it with a stippling brush or if you only have a regular blush brush just press it very gently against the pan and tap off the excess. Once you get the hang of it, you end up with a gorgeous orange blush that compliments all skin tones, from the pale to the dark skin women (or men, don't want to discriminate anyone!). It lasts up to seven hours on me, which is more than most blushes do. So in the end you get a pretty blush with great pigmentation and a nice wear time, which means it will last you for a long, long time (but have you ever finished a blush? I know I haven't...). Boticário delivers to the European continent if you order from the
Portuguese website
and is priced at 13,99€.
Ele é muito, muito, MUITO pigmentado. Das primeiras vezes que o usei tive cuidado e ainda assim acabei com cara de palhaça. É melhor aplicá-lo com uma stippling brush (qual o nome destes pincéis em português?) ou, se só tiverem um pincel de blush normal, pressionando-o levemente contra o compacto e batendo levemente para remover o excesso. Quando apanham o jeito ficam com um blush laranja lindo que cai bem a todos os tons de pele, das mulheres mais pálidas às mais escuras (ou homens, não quero discriminar ninguém!). Dura até sete horas, que é mais do que a maior parte dos blushes em mim. No final acabam com um blush bonito com uma pigmentação óptima e com boa duração, o que quer dizer que irá durar por muito, muito tempo (mas alguma vez acabaram um blush? Eu pelo menos não...). O Boticário tem lojas por todo o país e um site que faz entregas em toda a Europa. O preço é de 13,99€.
This product was sent to me for consideration. You can read more about it here. // Este produto foi-me enviado para consideração. Para mais informações consulta este post.