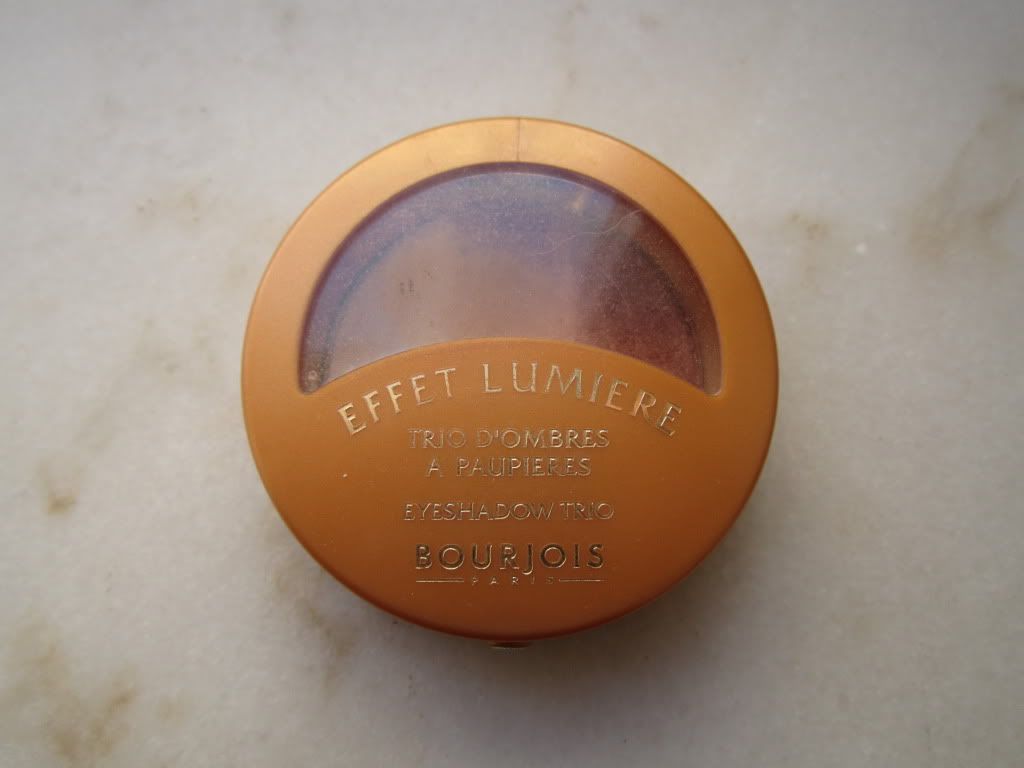 I don't know much about today's product. I know that Bourjois no longer sells these (at least there is no info about it on the British website) and that these trios came out in different color combinations. This must be a bazillion years old ("five" in makeup world), can't remember where it came from.
Não sei muita coisa sobre o produto de hoje. Sei que a Bourjois já não o vende (pelo menos não há nenhuma informação no site britânico) e que estes trios saíram em várias combinações de cores. Suponho que isto tenha um zilião de anos ("cinco" no mundo da maquiagem) pois não me lembro de onde veio.
This came with a sponge applicator that I must thrown away. The packaging itself if made out of plastic, doesn't feel very sturdy and isn't easy to open at first. I never traveled around with it but I can sense it wouldn't last very long.
Veio com um aplicador de esponja que devo ter deitado fora. A embalagem em si é feita de plástico, não me parece muito resistente e não é fácil de abrir antes de lhe apanharmos o jeito. Nunca a levei em viagens mas tenho a sensação de que não duraria muito.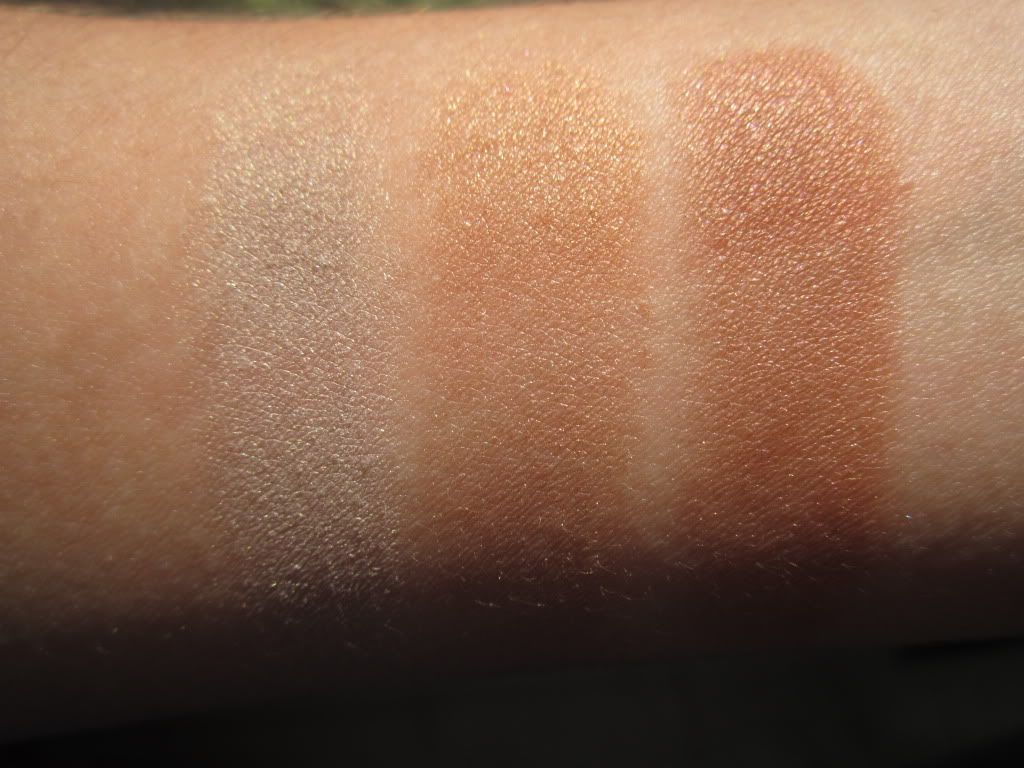 Without primer // Sem primer
With primer // Com primer
The first color, despite what may seem in the second pic, looks about the same with or without a primer. As an highlighter it looks okay if you want a wash of color but if you want a more opaque look this may not be the best since it can turn a bit chalky. The second color is a dark gold and the last is a brownish copper and both of them are nicely pigmented and have a very pretty satin finish.
In terms of wearing time, these were decent when used above a primer. By themselves they'd crease around the four hour mark but were able to last three more hours when used with a primer with little fading. They were all smooth and easy to blend, being the highlighter the least buttery. Yeah, I guess that if you took the highlighter and replaced it with a similar color with better quality I'd love this trio. If that one wasn't chalky the only problem would be the cheap packaging. Nonetheless, I really like the other two colors and will be using them way more now.
A primeira cor, embora não o pareça na segunda fotografia, fica igual com ou sem primer. Enquanto iluminador fica bem se quisermos algo suave mas se procurarem algo mais opaco esta pode não ser a melhor escolha visto que fica um pouco com aspecto de "gesso". A segunda cor é um ouro escuro e a última um cobro acastanhado e ambas têm uma boa pigmentação e um acabamento acetinado bem bonito.
Quanto à duração, esta foi decente quando usada em cima de um primer. Sozinhas acumulavam-se nas dobras dos olhos à volta da quarta hora mas com primer ainda duravam mais umas três sem que a cor desvanecesse muito. São todas suaves e fáceis de esfumar, sendo que a iluminadora era a menos "cremosa". Bem, suponho que se tirassem a iluminadora e a substituissem por uma cor semelhante mas de qualidade superior eu amaria este trio de sombras. Se aquela não se assemelhasse a gesso o único problema estaria na embalagem de má qualidade. Ainda assim, gosto muito das outras duas cores e vou usá-las muito mais agora.