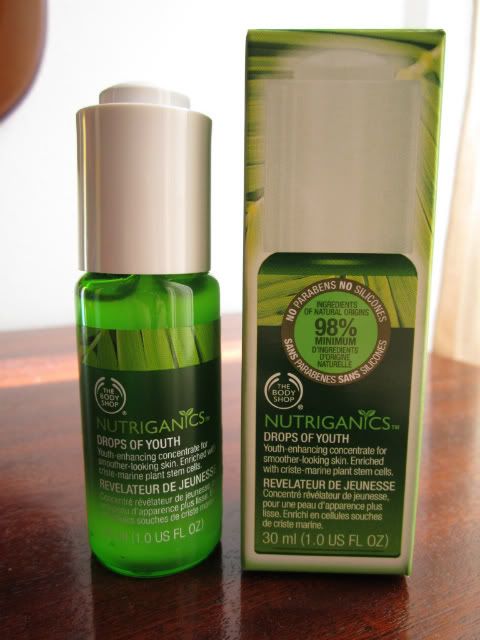 I am 25 y/o, the age most experts say we should start thinking about anti-aging products. To me honest, I hadn't thought about it until getting The Body Shop's Nutriganics Drops of Youth pre-serum. It was created for the first signs of aging and it's supposed to enhance surface skin condition, moisturizing and leaving it feeling smoother, fresher and healthier. You should massage it into your skin, letting it sink in before applying your moisturizer or serum.
Tenho 25 anos, a idade em que a maior parte dos especialistas dizem ser a adequada para começar a pensar em produtos anti-envelhecimento. Para ser sincera, nem tinha pensado nisso até receber o pré-serum Nutriganics Drops of Youth da Body Shop. Foi criado para os primeiros sinais de envelhecimento e é suposto melhorar o estado da superfície da pele, hidratando e deixando-a suave, fresca e mais saudável. Devem massajá-lo no rosto, deixando-o absorver antes de aplicarem o hidratante ou serum.
I'm always a bit shocked whenever I see a young blogger (or anyone under 25) talk about all the anti-aging products she uses. To me it seems a tad unnecessary at that age and a signal of possible issues with aging. I see nothing wrong with wanting a healthier and younger looking skin but we all age eventually and must accept it as something natural, not like something shameful. Thinking about it and trying to prevent it at such young age gives me the impression of something obsessive, I mean they're thinking about preventing/reducing wrinkles when your skin is at it's best! Am I the only one who thinks like this?
Back to the product. The pre-serum comes in a green see through bottle with a pipette that dispenses the product. Although it's not travel friendly and possible to break, I like it because you can see how much is left. The product is in gel form and clear. I apply one or two drops in my face and neck and wait for it to sink in, which takes around three minutes. It will turn sticky around that time but that feeling disappears once everything is absorbed.
Fico sempre um bocado em choque quando vejo bloggers jovens (ou qualquer pessoa com menos de 25 anos) a falar dos produtos anti-envelhecimento que usa. Parece-me desnecessário nessas idades e um sinal de possíveis problemas com o envelhecimento. Não acho que haja algo de errado em querer uma pele com um aspecto mais saudável e jovem mas todos vamos envelhecer eventualmente e devemos aceitá-lo como algo natural, não como um motivo de vergonha. Pensar nisso e tentar preveni-lo numa idade tão nova dá-me a impressão de obsessão; quer dizer, estão a tentar prevenir/reduzir rugas quando a sua pele está no seu auge! Sou a única a pensar assim?
Mas voltemos ao produto. O pré-serum vem num frasco de vidro verde translúcido com uma pipeta que dispensa o produto. Embora não seja fácil de levar em viagens e passível de se partir, gosto porque nos permite ver quanto resta. Trata-se de um gel transparente. Aplico uma ou duas gotas no rosto e pescoço e espero que seja totalmente absorvido, coisa que leva uns três minutos. Vão ter uma sensação peganhenta mas isso desaparece quando tudo é absorvido.
When it does, my skin feels smooth and a bit firmer. However, it didn't do much to eradicate my fine lines but I suppose this is more suited for those a bit older than me. This is a youth enhancing product, which means it's more suited for those in the late 20s and 30s. Don't expect this to stop you from aging as what this does is it plumps up fine dehydration lines temporarily.
It does moisturize a bit but please don't skip your moisturizer, as you'll still need it. It should help dry skin but it also did no harm to my combination skin, which as been on the oilier side. Applying it felt nice and it did work well under foundation but I didn't see any results in the long run. Perhaps if I was a bit older it would work differently.
Quando isso acontece, a minha pele fica mais suave e um pouco mais firme. No entanto, não fez muito para eliminar as minhas pequenas linhas mas suponho que seja mais indicado para aqueles um pouco mais velhos que eu. Este produto serve dar um ar de maior juventude, o que significa que é mais indicado a quem está no final da casa dos vinte ou nos 30s. Não esperem que isto vos impeça de envelhecer uma vez que o que faz é reduzir as pequenas linhas temporariamente.
Hidrata um pouco mas por favor não saltem a etapa do hidratante, pois vão continuar a precisar dele. Deve ajudar as peles secas mas não fez mal algum à minha pele mista que tem andado oleosa ultimamente. A sensação ao aplicá-lo era boa e funcionou bem por baixo da base mas não vi nenhuns resultados a longo prazo. Talvez se fosse um pouco mais velha o resultado tivesse sido diferente.