Leaving my confort zone can sometimes be hard for me. When I find something that works for me I tend to stick to it, forgetting to look for new and different things. This happens in everything, from my personal life to fashion or food and makeup is no exception. Eyeshadow wise, I'm loyal to my neutrals and 90% of what I have is in pressed powder form.
I don't many eyeshadows like Boticário's Make B. Infinit Collection Baked ones. Baked eyeshadows are, as the name states, baked for up to 2 days and usually come in this format. They can be applied dry or wet; the former will give you a sheer look and the later usually gives you true to pan colors.
Sair da minha zona de conforto pode por vezes ser difícil. Quando encontro algo que funciona comigo tenho tendência a me agarrar, esquecendo-me de procurar coisas novas e diferentes. Isto acontece com tudo, desde a minha vida pessoal, à moda, à comida e a maquiagem não é excepção. No que às sombras diz respeito, sou fiel às cores neutras e 90% delas são em pó compacto. Não tenho muitas sombras assadas como as Make B. Infinit Baked. As sombras
baked
são, tal como o nome inglês indica, assadas até dois dias e geralmente vêm neste formato. Podem ser usadas secas ou molhadas; no primeiro caso ficam como uma cor translúcida e no segundo com cores mais próximas às do compacto.
Besides from the purple disc, Boticário also has a blue one (Navy Disc), a pastel one (Colors Disc) and more neutral one (Caramel Disc). It promises a staying power up to 5 hours with no creasing.
The following swatches were done (left to right) directly onto the skin, with Boticário's eyeshadow primer and with a damp brush.
Além do disco roxo, existem também o azul (Navy Disc), o pastel (Colors Disc) e um mais neutro (Caramel Disc). O Boticário promete uma duração até 5 horas sem acumular na pálpebra.
Os swatches abaixo foram feitos (da esquerda para a direita) directamente na pele, com o primer de olhos do Boticário e com um pincel húmido.
This is a very light beige that almost disappears on me. I've seen this in women with darker skin tones and it looks very pretty on them. It gives you a very natural look with a gorgeous sheen when seen under direct light. Also very nice for just a wash of color in those days where you can't really bother to put on a tone of makeup.
Este é um bege muito suave que desaparece quase que por completo na minha pele. Já o vi em mulheres de pele mais escura e fica-lhes muito bem. Dá um efeito muito natural com uma luminosidade linda quando debaixo de luz directa. Fica muito bem espalhado em toda pálpebra naqueles dias em que não nos apetece aplicar imensa maquiagem.
The second eyeshadow is a very shimmery lilac. If you apply it directly to your eyelid it will give you just a bunch of shimmer with the slightest lilac hue. With a primer you have a light color that is more "day appropriate". But when you mix in a wet brush you get a pretty lilac (again) with a lot of shimmer. Unfortunately, there is also a lot of fall out with this one.
A sombra do meio é um lilás com muito brilho. Se aplicado directamente na pálpebra dá-nos apenas um monte de brilho com um levíssimo matiz lilás. Com um primer torna-se numa cor mais suave que acaba por ser mais "adequada" para o dia. Mas quando juntamos um pincel húmido à equação ele transforma-se num lilás bonito (novamente) com muito brilho. Infelizmente, soltam-se imensas partículas.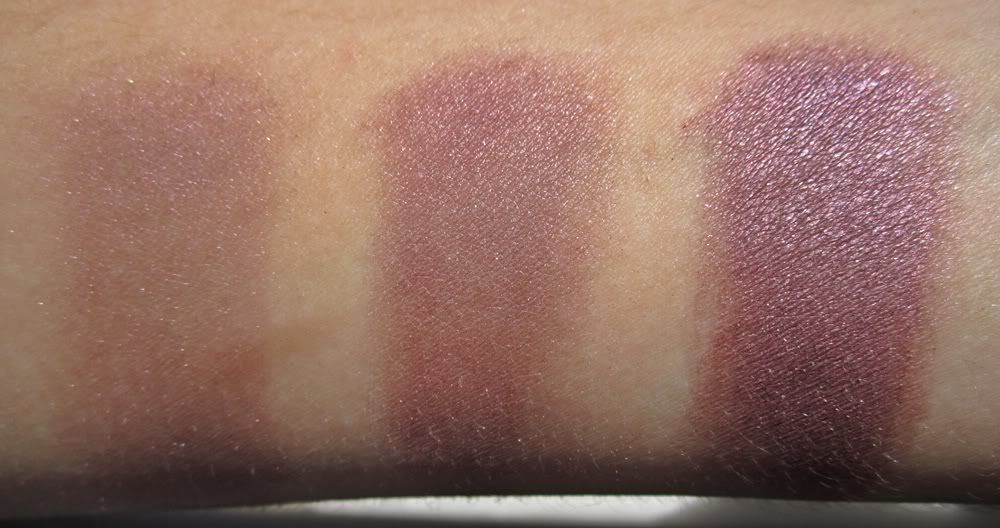 My favorite from the trio. A almost metallic grape. I have to say that I didn't like the way this looked when applied dry under a primer, it would emphasize the red tones in my skin making me look tired. When wet, well, that's a whole different story. Look at this baby in a completely different light and see for yourself how gorgeous this baby is:
O meu favorito do trio. Um uva quase que metálico. Tenho de admitir que não gostei de como ficou quando aplicado seco com um primer, acabou por destacar os subtons vermelhos da minha pele, dando-me um ar cansado. Mas quando húmido, aí a história é outra. Vejam esta menina sob uma luz completamente diferente e vejam com os vossos olhos como ela é linda:
All in all, I liked this trio. The colors are easy to blend and the lasting power is also good. The claims are clearly directed to those of you who wear eyeshadow without primer. When used with primer they last way more than 5 hours. The only one that I didn't love was the lilac one, it's not really my cup of tea. These eyeshadows are currently on sale on
Boticário's website
. They went from 13,99€ to 6,99€.
Tendo tudo em conta, gostei deste trio. As cores são fáceis de esfumar e a duração também é boa. A promessa é feita claramente a pensar em quem usa sombras sem primer. Quando usadas com um primer, duram bem mais de cinco horas. O único que não amei foi o lilás, não é bem o meu género. Estas sombras estão neste momento em promoção no site do Boticário. Passaram de 13,99€ a 6,99€.