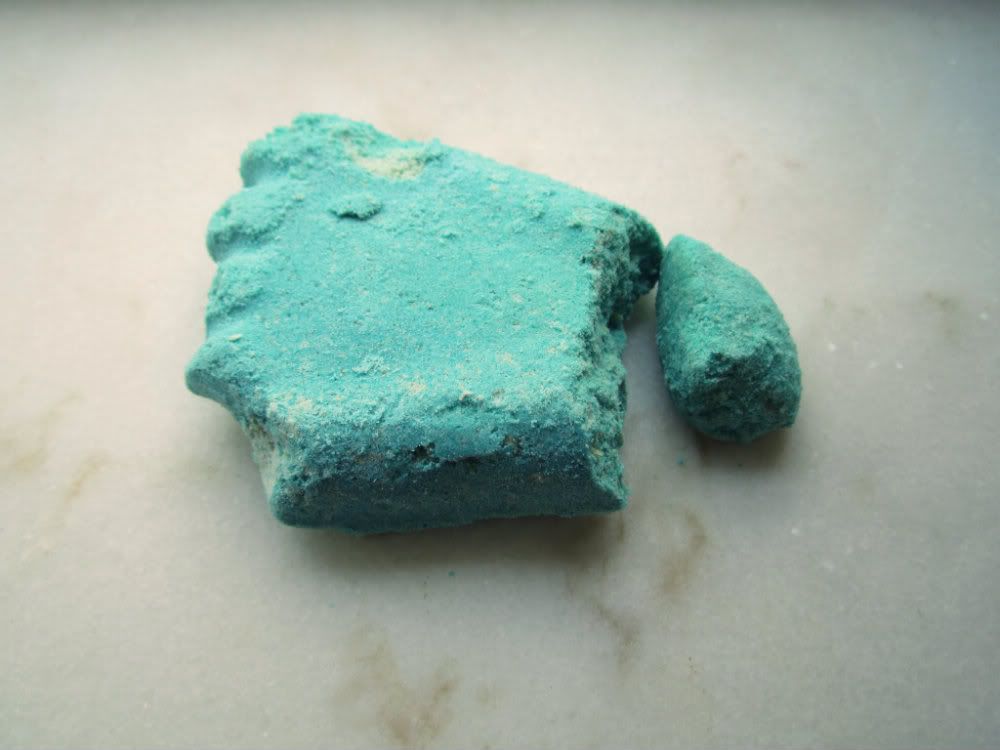 I've been a Lush fan since I first made an order on the UK website (didn't know there were stores in Lisbon and didn't botter looking... dooh!) and because I've been living near a Lush store for the past couple of months I went a bit crazy so brace yourselves, the Lush posts are coming.
What you're looking at in the photo above is a vegan foot scrub that once had the shape of a foot. You see, this blog was on hiatus for the last months so I didn't bother to photograph my products before using them and I guess it sort of makes a difference with a product like this (although I still think it's pretty to look at). Bought it during my last visit to Lush as I was looking for stuff to pamper my feet for the summer. The UK website tells us:
Hot, tired and aching feet?
This could be the stepping stone to take you from feeling like you're dragging lead boots, to tripping the light fantastic.
Give your feet a good working over with this little green footprint – because all that pumice in there will scrub and smooth away dead skin, whilst the jojoba oil will moisturise and make them soft without leaving them slippery or oily.
Tornei-me fã da Lush desde que fiz a primeira encomenda no site do Reino Unido (não sabia que haviam lojas em Portugal e nem me dei ao trabalho de procurar... duh!) e porque moro perto de uma Lush há alguns meses passei-me um pouco por isso preparem-se, vêm aí os posts da Lush.
Aquilo que estão a ver na fotografia acima é uma pedra pomes vegana que teve em tempos a forma de um pé. Como o blog esteve em hiato nos últimos meses não me dei ao trabalho de fotografar os produtos novos antes de os usar e suponho que faça alguma diferença com produtos como este (embora ainda o ache bonito). Comprei-o na minha última visita à Lush pois estava à procura de coisas para mimar os pés para o Verão. O site português diz-nos que:
Toda a gente precisa de um Stepping Stone depois de um árduo dia de trabalho! Este pézinho verde tem a mesma fragância revigorante de You've Been Mangoed e pedra pomes para polir todas as durezas da vida! O óleo de jojoba vai hidratar a pele seca sem a deixar gordurosa e o sal marinho vai encher os teus pezinhos de minerais benéficos. Dá um descanso às tuas solas com Stepping Stone!
You see, when I think of a "foot stone" I think about something hard that will destroy the dead skin that has been in my feet since Winter. "Gentle" isn't a word that comes to mind but the sort of evil pleasure of seeing that nasty skin going away does. Because of that I had a huge let down when realizing that this crumbled easily. It crumbles as soon as you put it with contact with dripping feet or as you press it onto them so you better break a piece before using it. It exfoliates the skin when you massage the crumbling pieces with your hands but very gentle. It didn't get rid of the nasty dead skin in my big toes which was what I was looking for. If I wanted something mild I would have used my body scrub.
My feet do feel smoother after thanks to the jojoba oil but I find that the sensation goes away fast. It smells great and according to the website it helps to deodorize but don't usually have smelly feet so I don't know if it works or not. All in all, I don't know if I like this or not. I mean, I was expecting something completely different upon purchasing it, like a pumice stone but the foot massage you end up getting is very pleasant and the smell is wonderful. If Lush sells this as a foot stone I will rate it as one and can't say it works like that. My feet don't feel exfoliated at all, just smooth and a little bit moisturized. It is something you can do with the body scrub you have at home but I guess that
for 2.95£
you can pamper yourself once in a while.
A verdade é que quando penso em "pedra-pomes" penso em algo rijo que vai dar cabo das peles mortas que tenho nos pés desde o Inverno. "Gentil" não é palavra que me venha à cabeça mas aquele prazer "malévolo" de ver as peles mortas a desaparecer vem. Por esse motivo fiquei bastante desiludida quando percebi que ele se partia facilmente. Parte-se em mil pedacinhos assim que entra em contacto com pés a pingar ou assim que o pressiono neles, por isso o melhor é partir um pedacinho antes de usar. Esfolia a pele quando massajamos as pequeninas partículas com as mãos mas de forma muito suave. Não se viu livre das peles mortas horríveis que tenho nos dedos grandes dos pés, que era aquilo que queria. Se quisesse algo suave tinha usado o meu esfoliante corporal.
Os meus pés ficam mais suaves depois graças ao óleo de jojoba mas a sensação desaparece rapidamente. Cheira muito bem e de acordo com do Reino Unido ajuda a desodorizar mas como não costumo ter pés mal cheirosos não posso dizer se funciona mesmo. Tendo tudo em conta, não consigo dizer se gosto ou não dele. Quer dizer, estava à espera de uma coisa diferente quando o comprei, esperava uma pedra-pomes mas a massagem que acabamos por receber é muito agradável e o cheiro é óptimo. Se a Lush vende isto como uma pedra-pomes é como tal que a vou avaliar e por isso não posso dizer que funcione. Não sinto os meus pés minimamente esfoliados, apenas suaves e ligeiramente hidratados. É algo que pode ser feito com um simples esfoliante corporal mas suponho que por 3€ possamos dar-nos esse miminho de vez em quando.