I like doing these monthly favorites posts because they force me to pay more attention to what I'm using every morning and also to try to change my routines and use different things.
Gosto de fazer estes posts com os favoritos do mês porque me obrigam a prestar mais atenção ao que uso todas as manhãs e a tentar alterar as minhas rotinas e a usar coisas diferentes.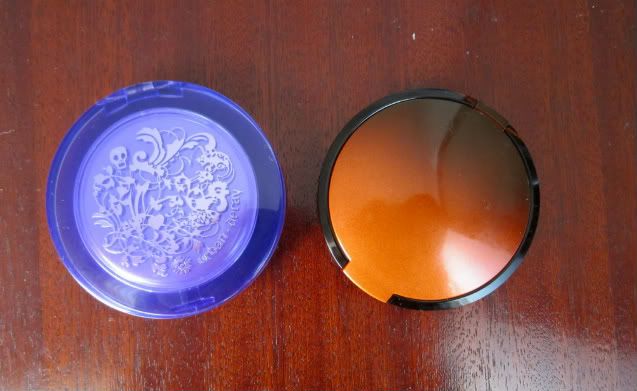 De-Slick Mattifying Powder by Urban Decay: been using this for a bit more than a week but am already in love with it! It's a lightweight powder that can be used to blot oils and remove shine. It's so light that it doesn't make you look powdery.
De-Slick Mattifying Powder da Urban Decay: Ando a usá-lo há pouco mais de uma semana mas já estou apaixonada! É um pó leve que se usa para retirar o óleo do rosto e tirar o brilho. É tão leve que não nos deixa com aspecto de quem acabou de passar a cara de pó.
Honey Bronze from the Body Shop, 03 Medium Matte: been using this bronzer for almost a year. Use this as a contour and as a blush during the Summer and it does a great job. Too bad it was a limited edition product. I know you're looking at the packaging and going "meh" but believe when I say it used to look much better when the lettering was still there.
Honey Bronze da Body Shop, 03 Medium Matte:
tenho usado este bronzer há quase um ano. Uso-o para fazer o contorno do rosto e como blush no Verão e faz um óptimo trabalho. É uma pena ser um produto de edição limitada. Sei que estão a olhar para a embalagem e a pensar "bah" mas acreditem quando eu digo que era muito mais gira quando as letras ainda lá estavam.
Lemony Flutter from Lush:
I'm starting to become a huge Lush fan. I bought Lemony Flutter last year but put it away when the weather went cold. Now that it's warmer I started using it again and my cuticles never been better.
Lemony Flutter da Lush:
estou a começar a tornar-me uma grande fã da Lush. Comprei o Lemony Flutter no ano passado mas deixei-o de lado quando o clima começou a arrefecer. Agora que está a ficar mais quente voltei a usá-lo e as minhas cutículas nunca estiveram tão boas.
Hand Salve from Burt's Bees: I know I recently said here that although this is a good product it's not worth the hassle when you're from Portugal and you try to get something from Burt's Bees. I still stand by those words but that doesn't make this hand moisturizer worst than it is. Been using it like crazy in the last couple of weeks, really want to hit the pan on this one.
Hand Salve da Burt's Bees:
sei que disse aqui recentemente que apesar de ele ser um bom produto não compensa o trabalho quando se mora em Portugal e se tenta comprar algo da marca. Mantenho o que disse mas isso não torna este hidratante menos bom do que realmente é. Tenho-o usado como uma louca nas últimas semanas, quero mesmo chegar ao fundo da embalagem!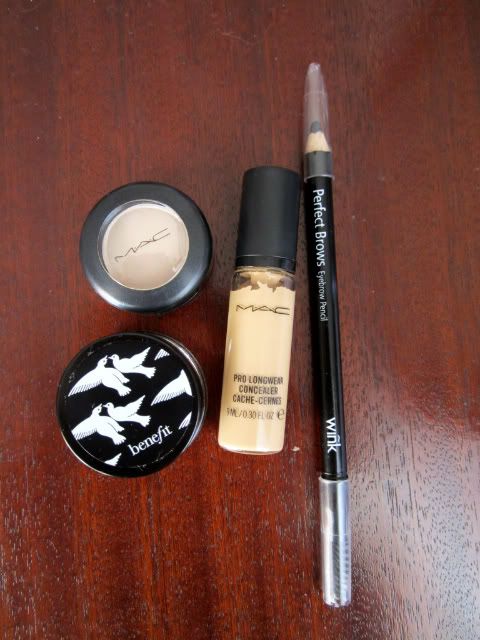 Shroom eyeshadow from MAC: gorgeous highlighter, so good that I even bought another one to do a giveaway.
Sombra Shroom da MAC
:
iluminador lindo, tão bom que comprei outro para fazer um sorteio. Resenha em português aqui.
Pro-longwear concealer from MAC: delivers what it promises in terms of longwear. I'm planning on writing a review about it in the next couple of weeks.
Corrector Pro-longwear da MAC: cumpre o que promete em termos de longa duração. Estou a planear escrever uma resenha sobre ele nas próximas semanas.
Creaseless Cream eyeshadow from Benefit in R.S.V.P.: I'm still testing this one to try and see if it's non-creasing claims are true when you wear this without a primer. Still, it's a great color to wear all over the lid.
Sombra Creaseless Cream da Benefit na cor R.S.V.P.:
ainda estou a testá-la para tentar perceber se as promessas de não acumular nas dobras dos olhos quando usada sem primer são reais. De qualquer modo, é uma óptima cor para usar em toda a pálpebra.
Perfect Brows Eyebrow Pencil from Wiñk: I don't have much to say about this other than it is a true black that matches my eyebrows perfectly and that it lasts a good time.
Lápis de Sobrancelhas Perfect Browns da Wiñk:
não tenho muito a dizer sobre ele além de que é um verdadeiro preto que condiz na perfeição com as minhas sobrancelhas e dura um bom tempo.