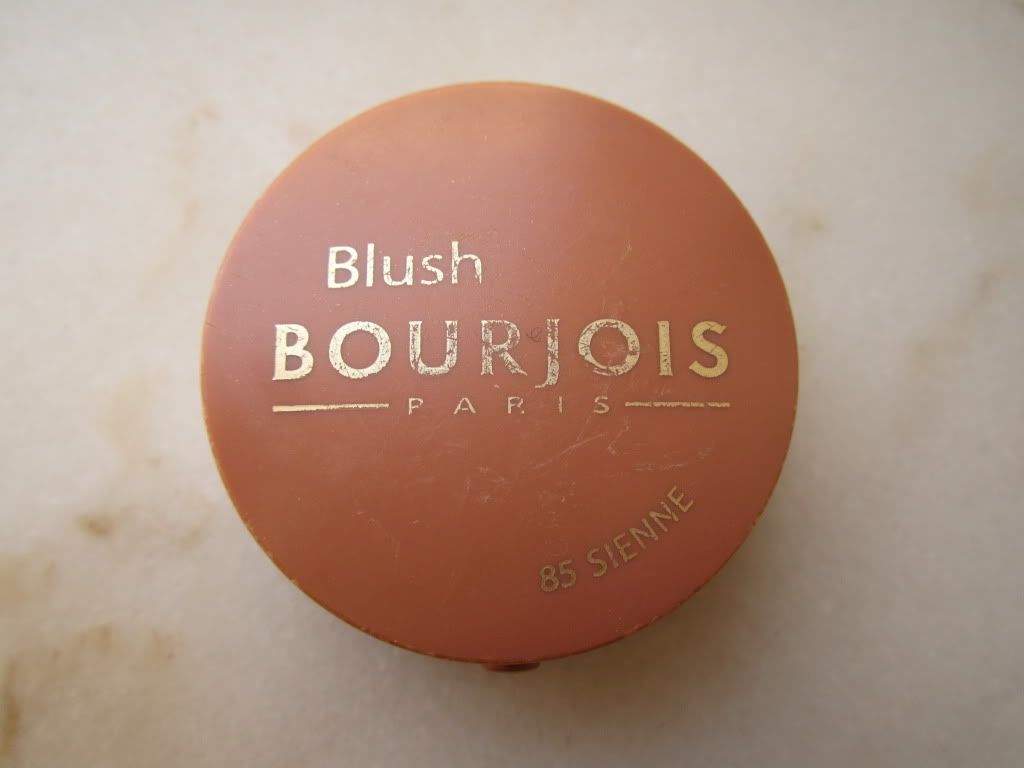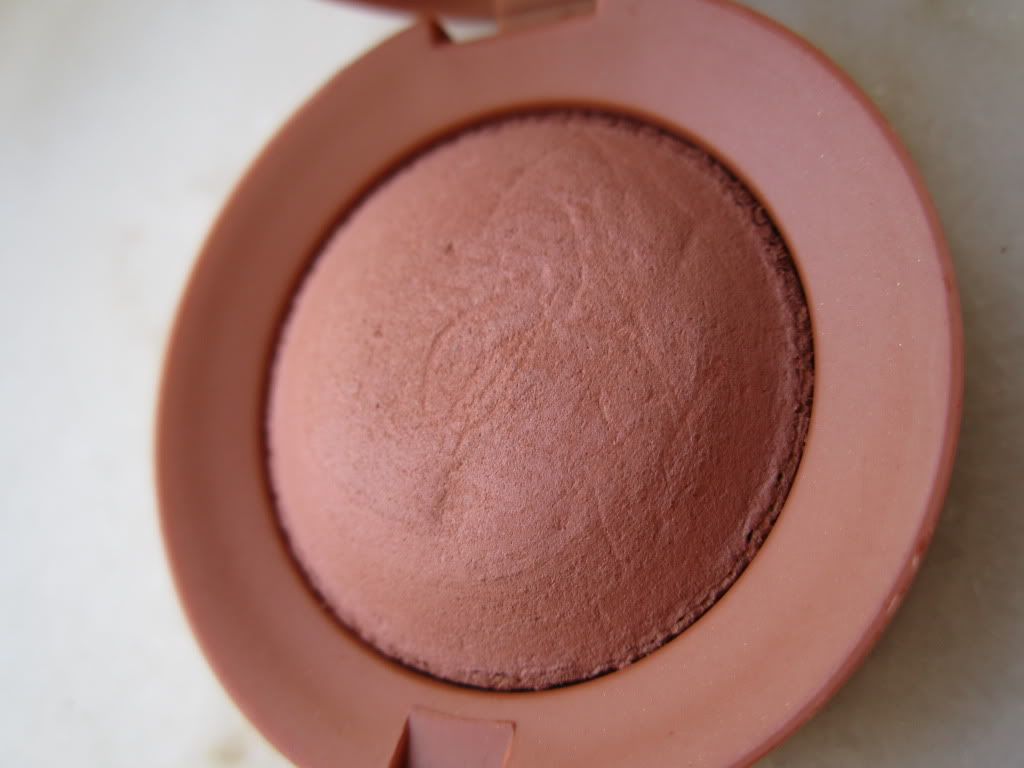 This is still one of my roommate's makeup products that I have been using and testing lately. She stores her stuff in the bathroom, I prefer to store it in my room so I can have my whole collection in one place and have access to natural lightning, so that is how I got to see all her makeup. Since she never saw my stash she must think I have a small makeup collection because I'm constantly borrowing her products so I can review them here. Today's product is a Bourjois blush named Little Round Pot Blush in 85 Sienne. Bourjois says:
The baked texture transforms when applied to the skin into an ultra-fine pressed powder, which is easy to apply and blends impeccably. One stroke of the brush reveals the irresistible aroma of the rose scented powder.
Este é mais um dos produtos de maquiagem da minha colega de casa que tenho usado e testado ultimamente. Ela guarda as suas coisas na casa-de-banho, eu prefiro guardar as minhas no quarto para ter a colecção toda junta e para ter acesso a luz natural, foi assim que acabei por ver toda a sua maquiagem. Como ela nunca viu os meus produtos deve achar que tenho uma colecção de maquiagem pequena porque estou sempre a pedir-lhe coisas emprestadas para as poder resenhar aqui. O produto de hoje é um blush da Bourjois e chama-se Little Round Pot Blush na cor 85 Sienne. Tradução minha da promoção da Bourjois:
A textura

baked

[assada] transforma-se num pó ultra fino quando aplicada na pele, sendo fácil de aplicar e impecável de esfumar. Uma passagem do pincel revela o aroma irresistível do pó com cheiro a rosas.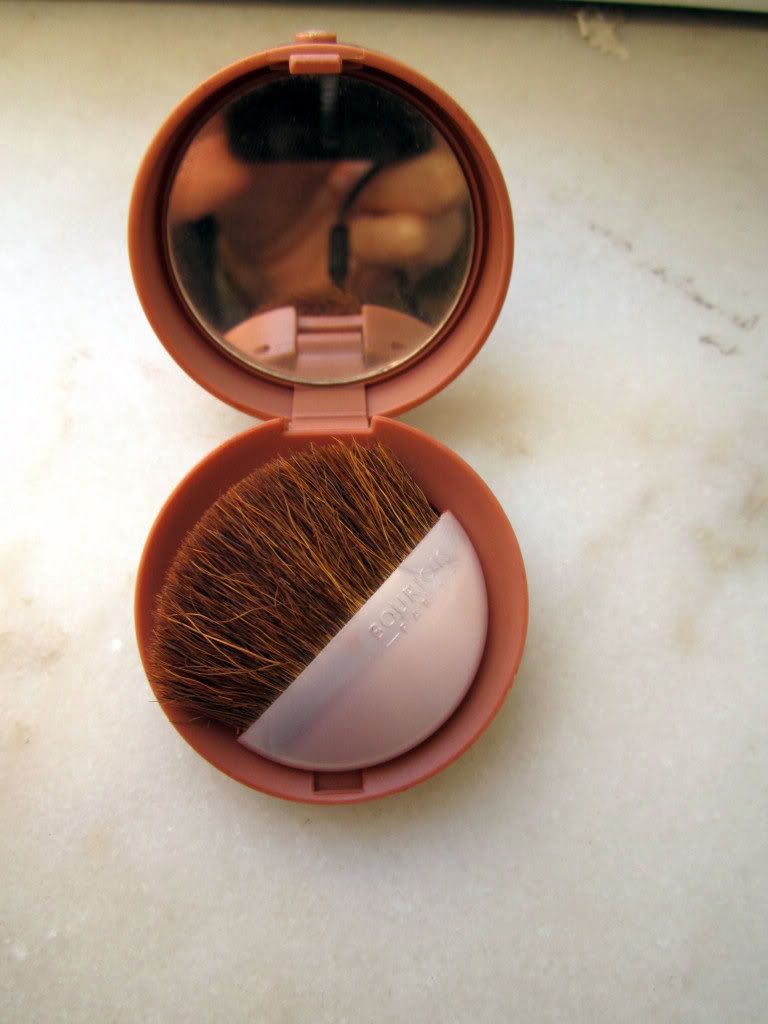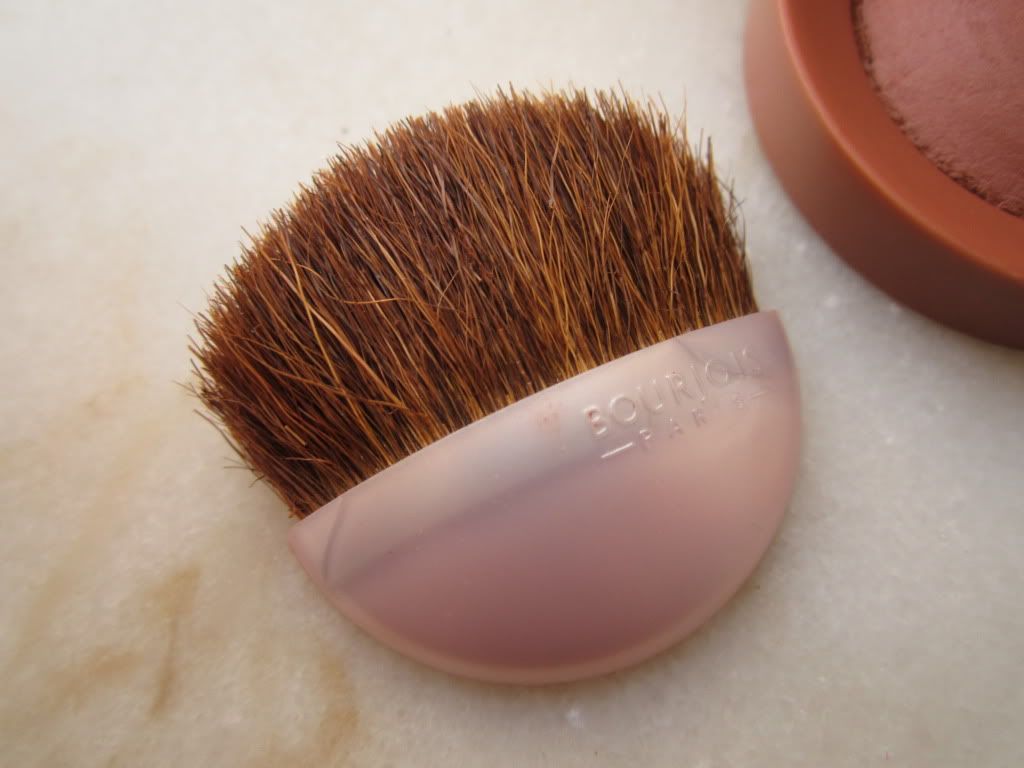 It came with a small brush that you might as well toss because it is useless. It is streaky and does not do much for blending. I like that it comes with a small mirror, I wish all face products in compact form came with mirrors. The fact that the cases have the same color as the blushes is cute and makes it easier to recognize between your other blushes. This is an old blush, I suppose that is why I can't find no traces of the rose scent. Scented face products annoy me and can irritate sensitive skin, I'm better off without them.
Veio com um pequeno pincel que mais vale deitar fora pois é inútil. Deixa marcas e não é grande ajuda ao esfumar. Gosto do facto de vir com um pequeno espelho, gostava que todos os produtos para o rosto em forma de compacto viesse com espelhos. O facto de as embalagens terem a mesma cor dos blushes é fofinho e torna mais fácil de os distinguir. Este blush é já antigo, suponho que seja esse o motivo para não conseguir encontrar vestígios do cheiro a rosa. Produtos de rosto com aroma incomodam-me e podem irritar a pele sensível, estou melhor sem eles.
When swatched on your cheeks you get a nice terracota satin shade. When applied lightly (I'm currently a NC25) it gives me a pretty natural flush. I think something like this (on a tone that compliments your skin tone) is an essential in everyone's blush stash: you absolutely need a natural blush. The pigmentation is nice, it doesn't go on patchy and blends like a dream. I see this working better on tanned ladies. The pale skinned need to apply it lightly and I'm not sure it will look as good on those with cool undertones. Apart from the scent part (that I can't tell), it does meet it's claims. It lasted about four or five hours on my cheeks, which is average.
I don't know why but I always ignored Bourjois. Maybe it was because it is one of the drugstore brands with higher prices, maybe it's because the packaging doesn't speak to me but I never felt curious when walking by a Bourjois stand. After a lot of positive reviews I ended up trying the Healthy Mix Foundation and it's currently one of my favorites but hadn't tried anything else before moving here. Now that I was able to put my hands on a couple of eyeshadows and blushes I've yet to try something that doesn't meet it's claims.
Quando aplicado no rosto ficamos com uma cor terracota acetinada. Quando aplicado levemente (actualmente sou um NC25), dá-me um corado natural e bonito. Acho que algo assim (numa cor que vá com o vosso tom de pele) é algo essencial na colecção de qualquer pessoa: precisam mesmo de ter um blush natural. A pigmentação é boa, não fica com falhas e esfuma maravilhosamente. Vejo-o a funcionar melhor com peles morenas. As de pele muito branca precisam de o aplicar com uma mão leve e não sei se ficará tão bem em quem tem um subtom frio. À parte do cheiro (que não consigo identificar), cumpre as suas promessas. Durou umas quatro ou cinco horas nas minhas maçãs do rosto, o que está dentro da média.
Não sei por que motivo ignorei sempre a Bourjois. Talvez fosse por ser uma das marcas de supermercado mais caras, talvez fosse por as embalagens não me dizerem nada, a verdade é que nunca senti curiosidade de experimentar algo quando passava por uma banca da marca. Depois de muitas resenhas positivas acabei por experimentar a base Healthy Mix, que é actualmente uma das minhas favoritas mas não tinha experimentado mais nada antes de me mudar para aqui. Agora que pude meter as mãos em algumas sombras e blushes posso dizer que ainda não encontrei algo que não cumprisse com o que promete.